What We Do
Mission Statement:
 To improve lives by harnessing the caring power of our community.
Roscommon is a rural community with an elderly population. Forty percent of the population is over the age of 60 years. Tourism is its main industry with three beautiful lakes in the area. Houghton Lake, Higgins Lake, and Lake St Helen draw people to area for all types of outdoor activities. However, many of the full-time residents struggle to meet basic needs for their families. Twenty-nine percent of the households live within the ALICE threshold with an additional twelve percent living below the federal poverty level. ALICE stands for Asset Limited Income Constrained Employed. ALICE households are households that have employment yet struggle to meet basic needs. (link to ALICE report) In response to the needs Roscommon County United Way started the Helping ALICE utility and foreclosure programs for Roscommon County residents.
Utility payments: electricity, natural gas, propane, and other deliverable fuels.
Foreclosure payments: tax and mortgage.
Nonprofit Sustainability Fund: The goal of the Fund is to assist small local nonprofits recover from the pandemic.
ELIGIBILITY:
Serve Roscommon County Residents
Must be a health and human service organization in good standing with IRS
Have an operating budget of less than $75,000
CARE Bags: Contain household items and personal hygiene items and are distributed periodically through the community food giveaways.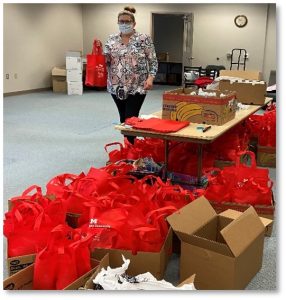 Volunteer Marey Jurkovich helping pack CARE bags.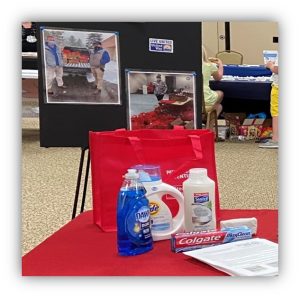 Contents of the CARE bags.
MEET THE AGENCIES WE SUPPORT
Artesia Youth Park
Crawford Roscommon CAN Council
Northern Michigan Children's Assessment Center
Imagination Library
River House
Roscommon County Commission on Aging
Roscommon Area Food Distribution
St. Vincent DePaul
We Care Shop
211 NE Michigan
IT'S ALL ABOUT THE SOCKS
January, 2023 Roscommon County United Way received a donation of 3,000 pairs of Bombas socks through the Bombas foundation. We depend on our volunteers and the partnering agencies to help distribute them.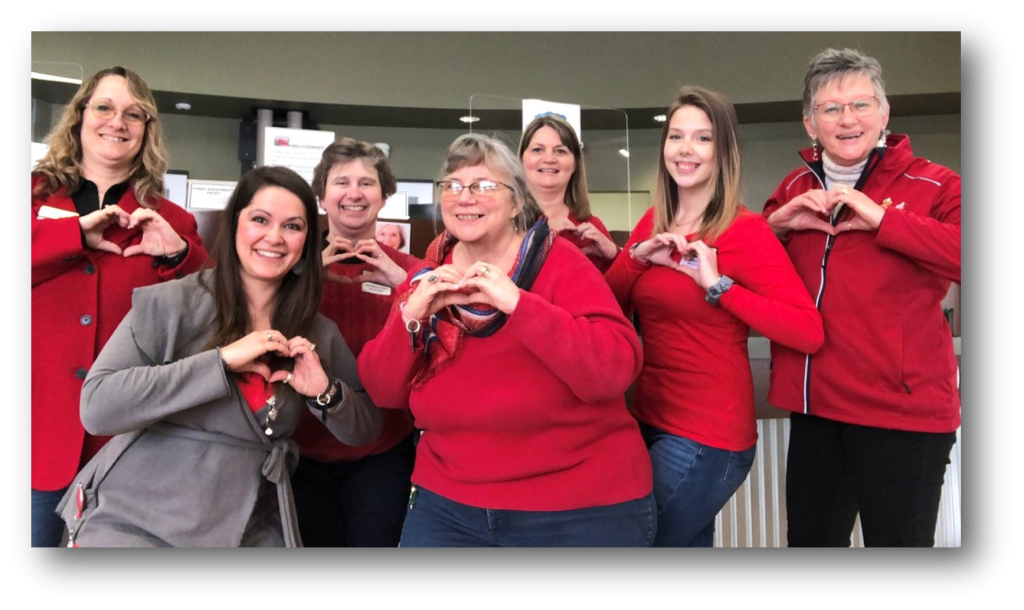 Thank you to the team from Horizon Bank for helping to sort and label all the Bombas socks
Organizations that received socks
Roscommon County Commission on Aging
Oasis of Hope Shelter
Homeless Point in Time Count Committee