GREAT THINGS HAPPEN WHEN WE
LIVE UNITED
October 18, 2022 Consumers Energy announced Roscommon County United Way was one of two organizations statewide to win the People Award. RCUW is the smallest organization to ever win the $250,000 prize. The funding was used create the Dish of the Day: A Mobile Soup Kitchen. The truck was presented to the community at the 2023 Tip Up Town parade and festival. The reaction was overwhelmingly positive. The fully licensed kitchen will operate six days a week 1-6 pm throughout the county offering a hot meal to anyone in need. Monetary donations are appreciated but not necessary. It is a judgement free zone.
Cherrie Benchley, Roscommon County Executive Coordinator, spoke of the gratitude to Consumers Energy for the funding. And offered appreciation to Thomas Pettit, Grants Coordinator, for the hard work helping write the grant and how thrilling it was to win.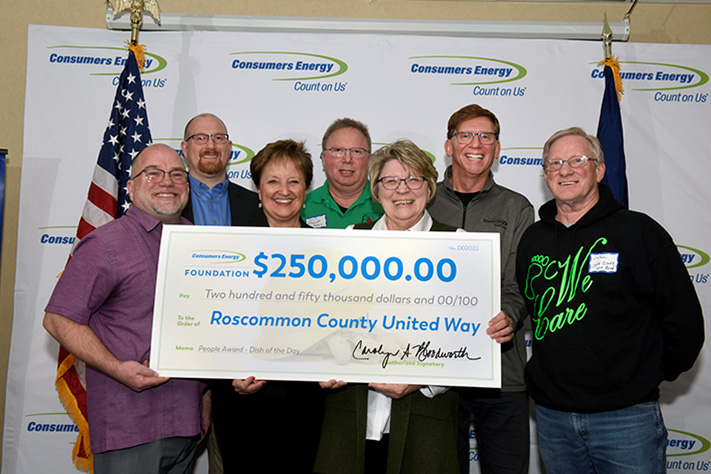 Pictured left to right (front row) Thomas Pettit, RCUW Grants Coordinator, Carolyn Bloodworth, Consumers Energy Foundation, Cherrie Benchley, RCUW Executive Coordinator, John Sutter, Executive Director We Care Shop, (back row) Rich Castle Consumers Energy Community Affairs Manager NE Michigan and RCUW Board Vice Chair, Chris Ashcraft, Executive Director Roscommon County Food Pantry and Roger Curtis, Vice President Public Affairs Consumers Energy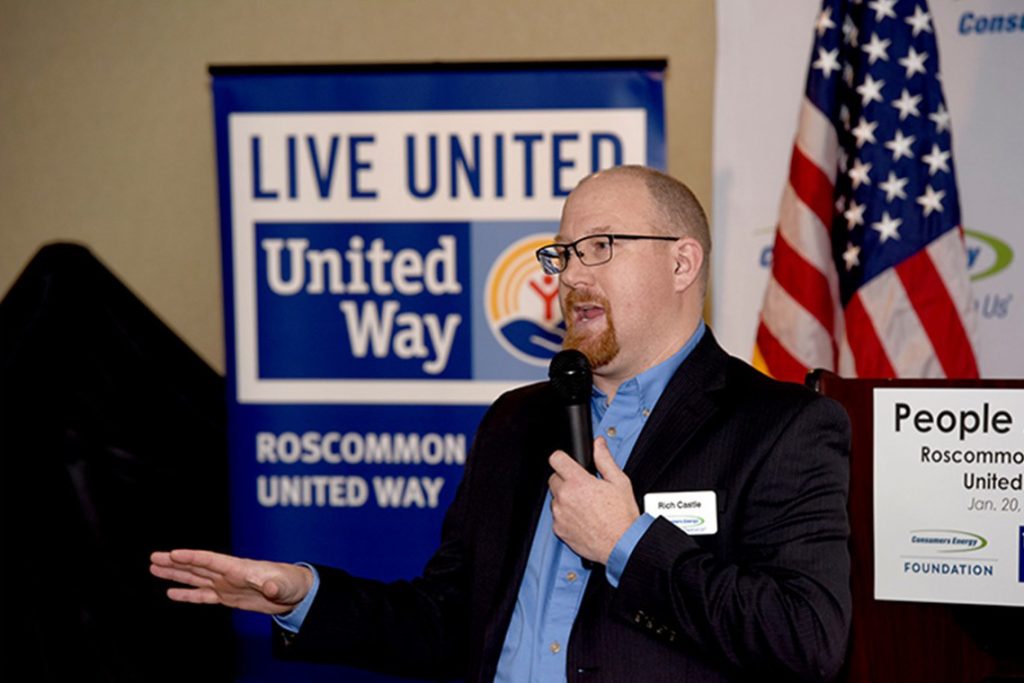 Rich Castle Consumers Energy Community Affairs Manager – Northeast Michigan and Roscommon County United Way Board of Directors Vice Chair at the Dish of the Day celebration.
We take the broadest possible view of diversity.
We value the visible and invisible qualities that make you who you are.
We welcome that every person brings a unique perspective and experience to advance our mission and progress our fight for health, education, and financial stability of every person in very community.
We believe that each United Way community member, donor, volunteer, advocate and employee must have equal access to solving community problems.
We strive to include diversity, equity, and inclusion practices at the center of our daily work.
We commit to using these practices for our business and our communities.
We are an equal opportunity employer.